Gorman & Company formed the Property Management Division in 1991. The division has grown substantially and now manages over 7,000 units. The team manages a full spectrum of housing in multiple states receiving accolades from local communities, state agencies, partners, investors, and lenders for their strong resident focus and knowledge of complex financial structures.
Gorman is focused on delivering well-rounded results in all aspects of property operations and have built a strong foundation to support our property teams in a variety of functions including facilities, compliance, training, accounting, and resident services.
We create a workplace culture where all team members are recognized for their personal and professional accountability, their flexibility and creativity in the ever-changing work environment, and in return, we ensure they are fulfilled within an energetic, gratifying, and fun environment.
Property Management in Detail
Since 1991, our property management teams have been providing a full scope of services to cover partner and resident needs ranging from relocation services to compliance. 
Gorman oversees the compliance of all financial programs for our affordable housing portfolio. Our Compliance Services team has extensive knowledge of all housing programs including, but not limited to: RAD, AHP, HTF, LIHTC, CDBG,HUD PBV, PBRA, HCV, Section 8, Section 811, NSP, Section 18, Tax Exempt Bonds, and HOME.
They attend annual trainings to keep abreast of new regulations and hold several certifications such as COS, HCCP, Multi-Family Specialist, Blended Occupancy Management, RAD PBV Specialist, C3P, and TCS. Within the various states we manage, we build strong partnerships with local and state housing agencies to ensure adherence to the stringent program guidelines.
Relocation Services was developed to ensure all redevelopment projects involving existing residents are managed with the least impact to their daily lives. The team is involved in very early stages of the redevelopment process to ensure that all state and federal relocation requirements are met from start to finish. The largest priority for the team is to strive to minimize the resident hardships from displacement and temporary relocation pursuant to the project's relocation plan.
The team's philosophy lies within full transparency and effective communication working to ensure residents are aware of their rights, benefits, and responsibilities. Assisting residents through the relocation process and welcoming them into their newly renovated home is an exceptionally rewarding experience.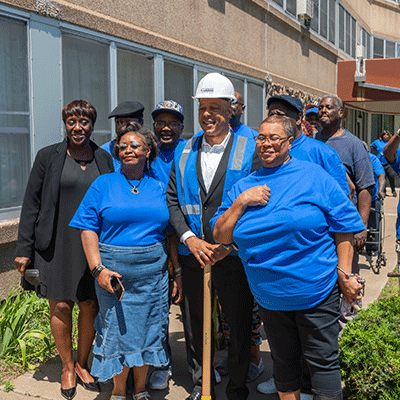 The mission of our Resident Services team is to empower residents with the tools, knowledge, and resources they need to prosper and thrive in their housing, and all aspects of their lives. Gorman & Company takes an active role in providing permanent supportive housing through our Resident and Social Service Coordinators. The team focuses on impacting the lives of our residents in need of supportive services through referral-based care, community partnerships, on-site programming, and management collaboration.
We establish relationships with community partners, regularly evaluate programs/services, assess the community needs, implement diverse programming opportunities that allow residents to develop skills, obtain knowledge, and build a strong support system. We are dedicated to lifting up the underserved and underrepresented populations within these communities. 
Property Management
The division has grown substantially and now manages over 90 properties and nearly 7,000 units. Gorman & Company manage a full spectrum of housing in multiple states.
Hospitality & Restaurant Management
The hotels within our portfolio are strategic historic rehabilitation projects of key buildings within their communities.
Asset Management
Asset Management acts as the owner's representative while achieving all stakeholder's goals at the highest possible level.
Laura Narduzzi
VP, Director of Operations
Laura received her degree in Hotel and Restaurant Management from the University of Wisconsin – Stout in 1989. She began her hotel career with The North Central Group, a hotel management and development company. She held various positions in her 20-year tenure with that company including the Vice President of Operations. In that role, she was responsible for a $90 million highly reputable hotel portfolio of Hilton and Marriott brands, which received several brand awards. She joined Gorman & Company in 2009 and now is the Director of Operations.
She directly oversees the operations of Gorman & Company's management division as well as supervises several corporate functions including facilities, marketing, training, and compliance. She works closely with the third-party management companies ensuring Gorman & Company's standards are synonymous across all markets. Laura works closely with development, design, and construction in the development process to insure strong viability and long-term sustainability.
Kelly Brophy
Regional Manager
Kelly serves as a Regional Manager for the Wisconsin and Arkansas markets. She currently operates and oversees 24 assets, and 1,000 units from Green Bay to Madison, WI and 3 public housing towers in Little Rock, AR, with a focus in Section 42 and conventional housing. She currently holds a BOMS and various certificates in multifamily housing.
Linda Cooper
Regional Manager
Linda has worked in residential property management for over 25 years. She has overseen a variety of residential portfolios that include conventional/market rate, tax credit, Section 8, & public housing. Linda focuses on relationship-building & mentoring to best help her teams be successful and achieve goals. Her region includes 11 properties in Illinois, Wisconsin, and Indiana.
Sonja Droste
Director of Property Management Eastern Division
Sonja leads the WI, IL, MS, & FL Multifamily Markets. She oversees all facets of property operations for the 3,500+ unit portfolio to achieve financial goals and ownership objectives while adhering to Gorman policies, applicable laws, and ordinances, including Fair Housing and equal employment laws. She brings a wealth of experience in affordable, market rate, and Section 8 housing to the team.
Renee Duquaine
Training Manager
Renee brings 19+ years of experience to educating our team. She develops, plans, and implements online and in person training. Curriculum includes Financial, Leasing & Sales, Spend Management, LIHTC, SOP, and Crisis Management. She collaborates with other department leaders to coordinate trainings that include HR, compliance, & accounting. Certifications include COS and BOMS.
Alexandra Halverson
Regional Manager
Alex oversees operations of our Colorado Market including financial goals, completion of lease ups, preventative maintenance plans, and team building. She oversees a variety of communities including conventional, workforce housing, LIHTC, RAD, PBV, and 811. Alex received her bachelor's degree in political science from the University of Wisconsin-Whitewater.
Sara Luster
Director of Property Management
Western Division
Sara leads the Western Division Multifamily Market. She oversees all facets of property operations for her 2,500+ unit portfolio to achieve financial goals and ownership objectives. She also oversees our Resident Services Team providing essential support and oversite of resident programs. Sara brings 20+ years of affordable housing experience to the team. She currently maintains a real estate license in Arizona, SA645833000, and holds HCCP® and C4P® certifications.
Thomas Piacentine
Facilities Manager
Tom is the Facilities Manager providing a unique and diverse background of management, operations, and construction management to the property management division. He focuses on preventative maintenance projects, overall asset protection, and works closely with the design and construction teams to develop first-rate high-quality projects.
Letitia Powell
Relocation Operations Manager
Letitia's passion is people, and her greatest achievements are the resident smiles walking through the doors of their new home! She has received several certifications including tax credit, Section 8, and Public Housing and holds a biology degree from Hampton University as well as a dual master's (MBA/MHRM) from Keller Graduate School of Management.
Travis Spencer
Regional Manager
Travis started his career as a Property Manager and was soon promoted to a Multi-Site Manager, and has now been in his current role for 5 years. Travis oversees 16 properties in Wisconsin and Mississippi ranging from HUD, tax credit, and market rate. In his over 25 years of experience in property management, Travis' management style is very hands on and direct.
Ariel Thanataweenont
Resident Services Manager
Ariel has experience working within social services, child welfare, homeless shelters, affordable housing, and more. Passionate about affecting change for underserved & underrepresented populations, Ariel assists coordination of our property service partners as well as oversees our internal Resident Service Coordinators.
Wendy Weiske
Compliance Manager
Wendy is the Compliance Manager responsible for compliance performance of all affordable housing at Gorman. She supervises a team of specialists ensuring accuracy and providing reporting for all federal, state, & local housing agencies as well as compliance audits and investors reporting. She has 25+ years of experience in compliance and holds many applicable certifications and designations.